R Series
Range
› Airflow up to 100'000 m³/h

› High efficiency > 80%

› Low pressure drops; suggested ΔP 150 Pa.
Download pdf
Material characteristics
Aluminium (AL)
The condensation wheel allows moisture transfer when, in winter conditions, the extract air falls below its dew temperature. It's the most economically advantageous solution to recover heat in most applications.
Hybrid (AT)
The hybrid enthalpic wheel allows the sensible and latent recovery due its hygroscopic matrix, that allows the moisture exchange between the supply and exhaust side.
Sorption (AR, AZ)
The adsorbent silica gel treatment (AR) which is applied to the aluminium layer, this allows the recvoery of the sensible and latent heat, reaching very high efficiency values, ensuring considerable energy savings. Also available in the version with hygroscopic coating based on molecular sieve 3Å (AZ), highly performing
Epoxy anticorrosion (AC)
In enviroments with aggressive atmosphere, it is recommended that the aluminium is protected by a paint coating non-toxic based and epoxy corrosion resistant (AC version - GOLD).
Dimensions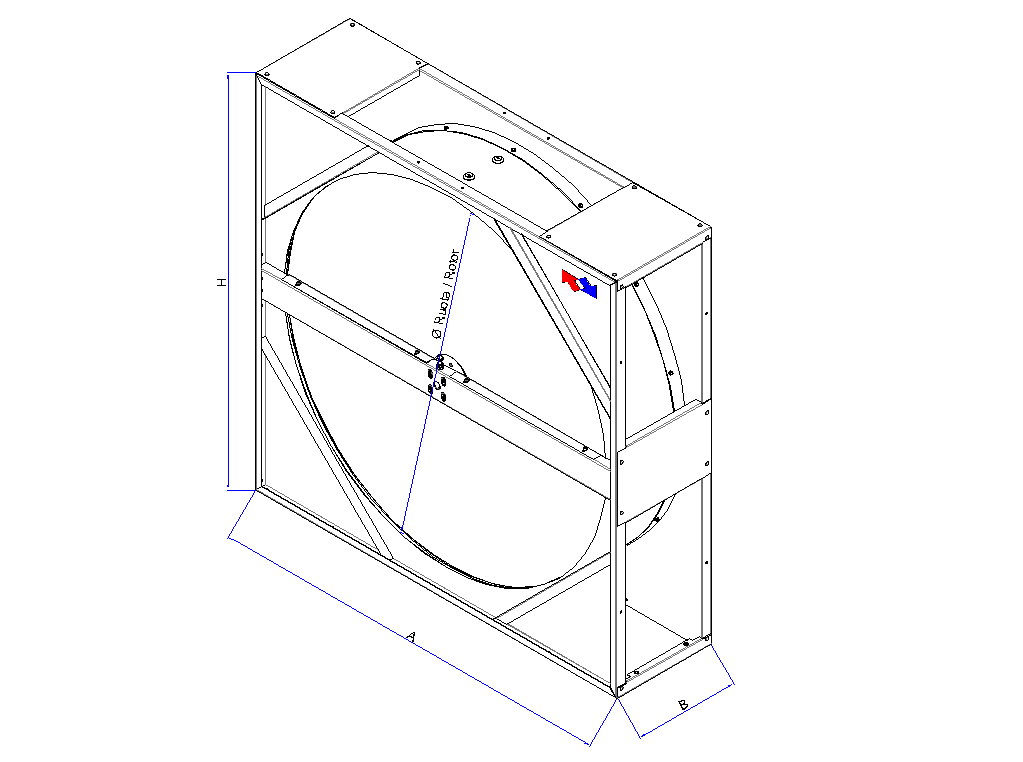 | Typology | Diameter | Step | HxA | B |
| --- | --- | --- | --- | --- |
| | 500 - 2500 | 50 | Ø + 100 | 290 |
| | 2600 - 3000 | 100 | Ø + 200 | 400 |
| | 3100 - 4100 | 100 | Ø + 200 | 430 |
| | 4200 | - | Ø + 300 | 430 |
| FINS SPACING | WAVE HEIGHT |
| --- | --- |
| Dense (N) | 1.4 |
| Intermediate (E) | 1.55 |
| Strict (C) | 1.7 |
| Medium (M) | 2.0 |
| Wide (L) | 2.7 |
Measurements in mm